Home » Posts tagged 'PI33EUDXF'
Tag Archives:
PI33EUDXF
Subscribe to this website
The first batch of 33EUDXF Awards have been issued.
In total 178 awards to 106 different stations are sent.
A special achievement is made by SM4IED, OM3CND, R4AN, E72A, HA1ZH, VO1SA, SV1AJO and HA7XL by obtaining the Platinum status of the award.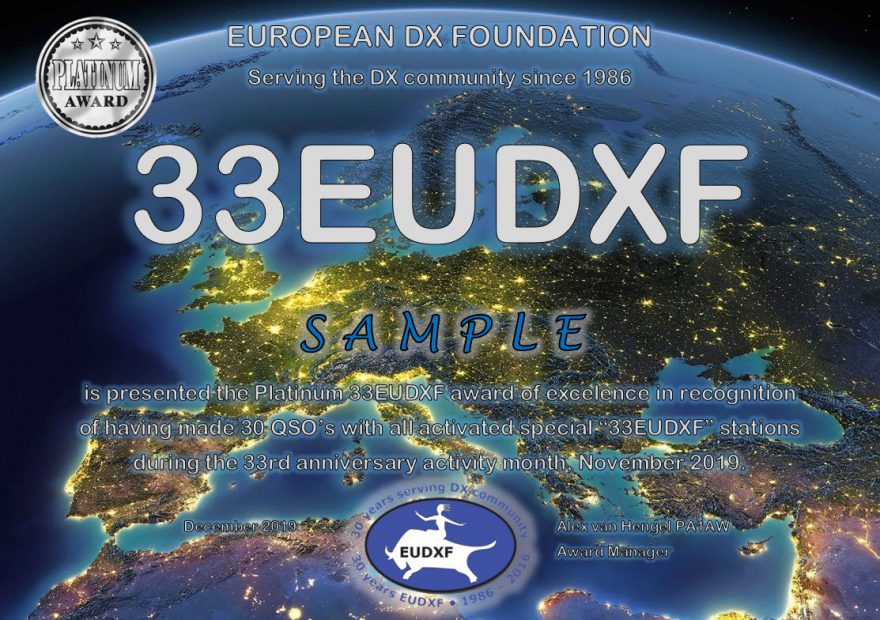 During November 2019 special Px33EUDXF callsigns will be activated by EUDXF members from the Netherlands.
Look for PA33EUDXF, PB33EUDXF, PC33EUDXF, PD33EUDXF, PE33EUDXF, PF33EUDXF, PG33EUDXF, PH33EUDXF and PI33EUDXF
The special callsign is for celebrating the 33rd anniversary of the EUDXF European DX Foundation.
A QSO with this station is also valid for the 33EUDXF Award. More info on www.eudxf.eu
QSL via PA0MBD  (Clublog OQRS preferred)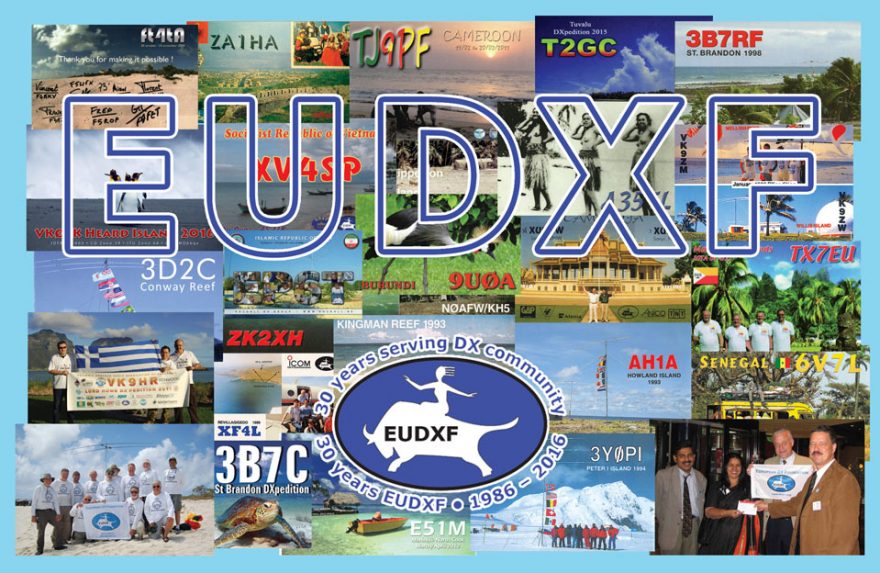 During November 2019 a number of Special Event Stations will be active during the 2019 EUDXF activity month, all using special callsigns referring to the 33th anniversary of the EUropean DX Foundation.
Look for :
TM33EUDX
DL33EUDXF
HG33EUDXF
LA33EUDXF
PA33EUDXF
PB33EUDXF
PC33EUDXF
PD33EUDXF
PE33EUDXF
PF33EUDXF
PG33EUDXF
PH33EUDXF
PI33EUDXF.
All QSO's will be confirmed by a special QSL card.
33EUDXF Award
By working the 33EUDXF stations points can be collected for various levels of the award.
The award will be available in 4 different classes:
Bronze: 10 QSO's with at least 3 different special "33 EUDXF" stations
Silver: 20 QSO's with at least 4 different special "33 EUDXF" stations
Gold: 30 QSO's with at least 5 different special "33 EUDXF" stations
Platinum: 30 QSO's with all activated "33 EUDXF" stations.

At least one QSO should be made with every 33 EUDXF station
Please note that working the same station on the same band in the same mode is considered a dupe QSO and will not count for the award.
Any other combination counts as a valid QSO.
The award will be available for free in an digital format.
A printed award will be made available against cost of 10 Euro/Dollar.
Valid stations for the award: DL33EUDXF – HG33EUDXF – LA33EUDXF – PA33EUDXF – PB33EUDXF – PC33EUDXF – PD33EUDXF – PE33EUDXF – PF33EUDXF – PG33EUDXF – PH33EUDXF – PI33EUDXF and TM33EUDX.
(Subject to change as more special callsigns are not yet confirmed)
How to obtain this award?
Send a log extract showing the qso's made to Alex PA1AW, the award manager.
The awards will be issued starting December 2019 after completion of the EUDXF activity month.