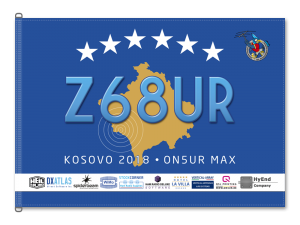 EUDXF member Max ON5UR will travel to Kosovo.
The Z68UR callsign have been confirmed by ARKEP and the paperwork have been accepted by the ARRL for DXCC purposes.
Z68UR will be active from 20 – 30 september 2018.
Main activity will be SSB and FT8.
Kosovo is ranked #41 on the Club Log Most Wanted DXCC list.
Max will carry with him:
Elecraft K3.
Expert 1.3 K-FA.
Stockcorner JC-4s.
Vertical Array – Super vertical 30 – 40 – 80 mtr.
HyEnd 20-40-80 mtr.
Tower: Spiderbeam – 18 meter.
More information at www.united-radio.be