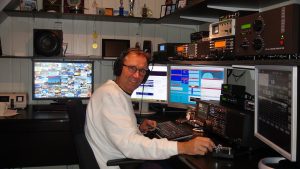 The last QSO's are in the log for PF30EUDXF. I have activated this call for 2 months (October and December. In November I activated PI30EUDXF also from our contest location of PI4COM. I enjoyed it very much. It was nice to have short pile-ups on all bands in all modes (that from a country on the most wanted list #329 hi hi). A lot of people were hunting for the 30Y EUDXF award and succeeded. I am sure we made a lot of publicity for EUDXF, so I hope we will have more members. That would be perfect so we can support more DXpeditions in the coming years.
I wish everybody a very healthy and successful 2017 and of course with a lot of DX.
(I can't wait for activating PF31EUDXF).
See you in de pile-up from Pitcairn VP6EU.
Ronald Stuy, PA3EWP
Boardmember EUDXF – https://www.eudxf.eu