Looking back at the November EUDXF activity month we can only but conclude that it was a succesfull event.
Twelve special 32EUDXF stations were active during November. In total they made over 16000 QSO's and provided daily 32 EUDXF Activity in all modes on all bands.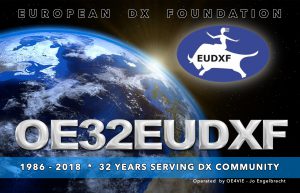 Also the hunt for the 32AWARD was there. This unique award also brought questions like "when will Px32EUDXF be on CW?" etc.
A special thank you to all the operators of the Ses stations for their support to the 32EUDXF Activity month: DL7AFS, DF3EC, DJ9KH, DJ9ON, DK2HM, DL5XL, DL7DF, DL9GFB, DJ8NK, DJ5AN, PA4JJ, PA0GRU, OE4VIE, ON6CC, PI4COM, PD7RB, PB7Z, PA3ANF, PC2D, PA0ABM, PA0JED, PD9DX, PA3EWP and PA1AW.