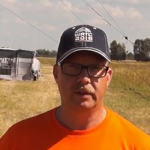 my name is Bert and I live near the city of Hamburg.
I started as SWL DE1BMH in 1981 and became licensed as DL2HCB in 1984.
Today I am QRV as DM1BM from home and as SO1BM from Poland.
Most of the time you will find me in the CW part of the HF bands, but sometimes also in the digital section.
Ex operator on board of DRBQ
I am one of the operators and QSL manager of DL0MFH on board of M/V "Cap San Diego"…
… and also member of DARC (DOK E07), RSGB, MF-Runde, RNARS, AGCW-DL, EUDXF and True Blue DXers Club
Paper QSL is always appreciated and 100% in return via the buro or direct and I do welcome SWL reports.
orts.