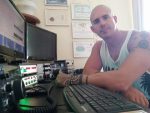 #952 – SA2SAA – 5B4ALX – Alex
My name is Alex, many of you have come to know me as 5B4ALX, H2X, E6ET or other DXpedition calls.
Some have known me for professional reasons (installation of masts and antennas – HamTenna) or for the graphic creation of logos and QSLs (DXcreations).
I hope that what positive I have done in the past, as a radio amateur, installer, technician … it can also follow me with this new callsign and that I can have as many of you in my logs.
SA2SAA is my callsign for daily use, in Contest you will find me active as 7S2A.
My wife Cristina and me moved to Norrbotten County from Cyprus in early 2021, we live in a rural suburb of Boden, 35km north of Luleå.
My 5B4ALX and 5B0EME licenses remain active as well as the station in Cyprus at least until the end of the transfer to the new property.
SA2SAA is daily used for QSO and DX while 7S2A runs in Contest and 6m activity. 7S2A usually contesting as Single Operator QRP because I firmly believe that by operating in QRP you have a clearer idea of the station's potential and consequently an idea of what to improve.