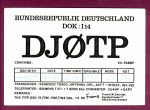 Born in Hazerswoude (Netherlands) in 1938. Retired as system-engineer since 1998.
First licensed as PA0MP in 1963, licensed as DJ0TP in 1968.
Member of VERON (since 1963, #2941), DARC (OV Vegesack DOK I-14 since 1973, #1490002), EUDXF (since 2008, #802) and GDXF (since 2008, #620)
DXCC STATUS (05 August 2016): 337 (All)  and 330 (Current) confirmed countries. Last confirmation: FT4JA – Juan de Nova.
I prefer QSL via bureau and LoTW. I upload my logs to the LoTW at least once a week and regularly also to Clublogs.
Equipment here: ICOM IC-7600 with SignaLink USB-Sound Card Interface for Digi-Modes  and the Expert 1K-FA Antenna Tuner/Power Amplifier. W3DZZ-antenna for 80 m and 40 m, 2 el. yagi antenna for 30 m, 17 m and 12 m combined with a 3 el. yagi antenna for 20 m, 15 m and 10 m (Fritzel FB-DX-506 on a 18 m/60ft tower). For my mobile activities from Corsica Island (TK/DJ0TP) in the summertime I use the Buddipole antenna system.
Software for the Digi-Modes: MixW 4.1.1 (reg.), JT65  – HF HB9HQX- Edition
Logbook: HAM-Office 5 rel. 4.1 by ARCOMM.
Awards: DXCC (Honour Roll),WAS (20m-Mixed), WAC, WAZ, WAS Triple Play Award #603.
My skype-ident can be obtained on email request.
DXCC visited:
3A, 3W, 9M2, 9V, A6, BY, DL, EA, EA6, EA8, F, G, HB9, HB0, HL, I, JA, JY, LX, OE, ON, OK, OZ, PA, RAeu, SM, SV9, TA, TK *), V5, VE3, VR2, VU, W6/7/9, XE, XU, YK, ZL, ZS.
*) first activation in August/September 2017.