12th September 2016 / Leave a comment
Also in The Netherlands special stations will be activated to celebrate our 30th anniversary.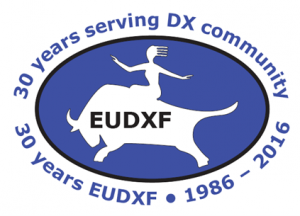 In the period october – december 2016 these stations will be active:
PA3ØEUDXF by PA1AW
PB3ØEUDXF by PA2LO
PC3ØEUDXF by PA4VHF
PD3ØEUDXF by PD7RB
PE3ØEUDXF by PB8DX
PF3ØEUDXF by PA3EWP
PG3ØEUDXF by PA2GRU
PH3ØEUDXF by PAØABMK & PE1NCP
PI3ØEUDXF by PI4COM
QSL Manager for all listed stations is Alex PA1AW. Logs will be on LOTW and Clublog.
For more information about this special event you can contact Ron PA3EWP