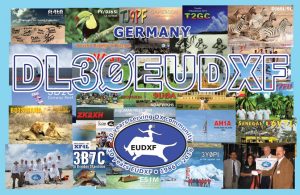 DL3ØEUDXF was the first special call sign dedicated to the 30th anniversary of the EUDXF  activated by Baldur, DJ6SI, and his brother Joerg, DL4DCE. As more and more 30EUDXF stations became active towards the end of the year and the creation of the 30EUDXF awards program was announced, it was obvious that more operators were needed to offer DL3ØEUDXF on the bands. Until the very last day of 2016, DL3ØEUDXF was supported by Ralf, DJ1RP, Toni, DL1EKO, Dominik, DL5EBE, Olaf, DL7CX (participation in Stew Perry Contest on 160 m) and Sigi, DL7DF. A total amount of 8912 QSOs was achieved by the german team from 10 – 160 m in CW, SSB and digital modes.
I always tried to activate DL3ØEUDXF in the morning before leaving for QRL and in the evenings when I came home and occasionally on the week-ends. Unfortunately, propagation were really challenging and as the higher bands were mostly dead, the biggest amount of contacts was made on the lower bands, especially on 80 m. As my spare time behind the radio was very limited I used to announce DL3ØEUDXF on the cluster whenever I started operation or whenever I changed the band. The introduction of the 30EUDXF awards program had resulted in wonderful pile ups and it was remarkable how some DXers really tried hard to work us on as many bands as possible. By time, some call signs became really familiar to us and although signals were sometimes extremely weak, they were recognised and made their way into the log. Despite of the poor conditions I made frequent calls on the higher bands to check propagation. I was surprised that even on 10 m and 12 m during daytime brief openings on an apparently dead band had allowed me to work a couple of EU stations who were really happy to get this rare bandpoint. As DL3ØEUDXF was mainly activated on SSB, the focus of my operation was clearly set to my favourite mode CW.
There was a little downside during the activity related to my radio. My Ten-Tec Orion suffered from dying capacitors of the power distribution board and had to be sent to the repair shop. In the meantime I had to use my little IC-7000 mobile HF rig which couldn't compete with the Orion receiver quality at all which caused some frustration. But the biggest frustration came after I had asked the repair shop to make a firmware upgrade on the Orion. When I got my radio back it suddenly showed frequent ARC faults on the ACOM 2000A linear. These ARC faults were severe on 80 m, but on 160 m I basically couldn't use the linear at all. However, DL3ØEUDXF was more or less active every day and those hunting for bandpoints in completion of their awards definitely got their chance.  DL3ØEUDXF was a very nice team effort and I would like to thank all participants for their active contribution!
Best 73s & gd DX!
Dominik   DL5EBE   (EUDXF #598)
This slideshow requires JavaScript.